Upload a Photo to Preview Your New Floors
Try out our room visualizer to preview any of our flooring products right in your home. Just click the button in the bottom right of the screen. Preview different scenes with the flooring product of your choice or upload a photo of your room to see exactly what it would look like in your home.
Step-By-Step Process
Tap the widget icon in the bottom right of the screen and then tap "Browse All Products"
Filter our products by flooring type, color, shade or brand to find a product you would like to preview
Choose to upload a photo or select a pre-set scene
Preview different flooring options and download, email or share your dream projects with your family & friends
Contact Flawless Flooring for a free estimate on your next home improvement project
Use Our Room Visualizer to See New Floors in Your Home
Welcome to Flawless Flooring's state-of-the-art room visualizer! Step into a world of flooring possibilities with our free virtual flooring visualization tool. Transforming your home has never been easier. Simply visit our website and access the flooring simulator to upload a photo of your room. Watch as your space comes to life with a stunning array of flooring options at your fingertips. Say goodbye to guesswork and hello to a flawless flooring transformation!
Customize Different Flooring Options in the Room Visualizer
With our room visualizer, you become the master designer of your dream floors. Customize and explore an extensive range of flooring options, including wood, laminate, vinyl and tile. Choose from a rich palette of colors, patterns and textures to find the perfect fit for your home's unique style. Whether you're looking to achieve a cozy and warm ambiance or a sleek and modern look, our flooring visualizer allows you to experiment until you discover the flawless flooring that speaks to you.
Our Services, Flooring Options and Product Brands
At Flawless Flooring, we are dedicated to delivering excellence in every aspect of your flooring journey. Our team of experts offers a variety of professional flooring services, ensuring your floors are always immaculate. As you explore our room visualizer, rest assured that you're previewing an extensive selection of high-quality flooring types from top-notch floor manufacturing brands, such as Mannington Mohawk, Paramount Flooring and many more. From the beauty of solid wood to the versatility of vinyl, we have the perfect flooring solution to suit your needs and preferences.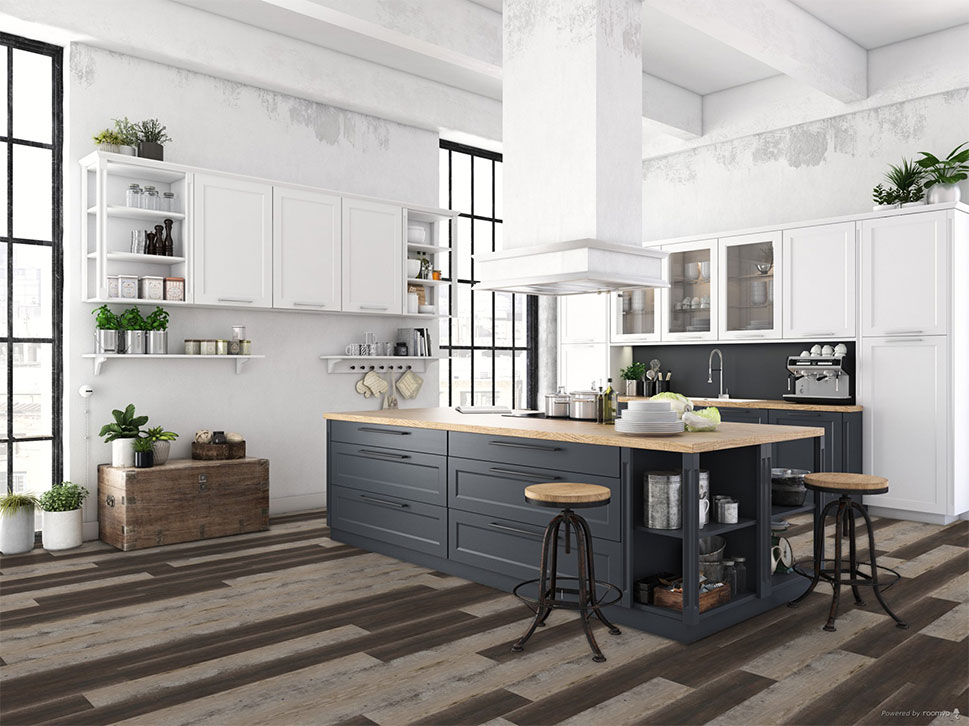 How Our Flooring Room Visualizer Benefits You
Our innovative flooring visualizer is designed to elevate your flooring shopping experience to new heights. Embrace the benefits that come with using our room visualizer:
Empowering Decision-making: Visualize different flooring options in your own space and make well-informed choices that align perfectly with your vision.
Easy-to-Use Interface: Our user-friendly flooring simulator ensures that designing your dream floors is a seamless and enjoyable process.
Virtually Experience Your Space: See your room come alive with various flooring styles, colors and textures without leaving the comfort of your home.
Confidence in Your Selection: Test different flooring combinations until you find the flawless match that complements your existing decor and personal taste.
Time and Money Saver: Eliminate the need for time-consuming and costly visits to multiple showrooms. With our free virtual flooring visualization tool, you can explore a wide range of options efficiently.
Room Visualizer Tool FAQs
Is the room visualizer tool really free to use?
Yes, absolutely! Our room visualizer is a complimentary service to assist you in your flooring decision-making process.
Can I use the flooring visualizer on any device?
Yes, you can access our flooring simulator on desktops, laptops, tablets and smartphones, making it convenient to use at your own pace.
Are all your flooring options available in the room visualizer?
Certainly! We have included our full range of flooring materials and styles in the room visualizer to provide you with a comprehensive selection.
How accurate is the room visualizer in portraying the actual flooring appearance?
The room visualizer provides a close representation of all of our flooring options. If you want to see the physical product before purchasing, we encourage visiting our showroom to see physical samples for complete assurance.
Can I save and share my designed room for future reference or to get others' opinions?
Yes, you can save and share your customized room design through various platforms, making it easy to seek feedback or revisit your flooring choices.
OUR JOBS
NEAR YOU
If you live in the Waukesha, New Berlin, or the Milwaukee area you might have already walked on one of our expertly crafted floors. See for yourself on our job map.